Valhalla: Oasis of Happiness
Let yourself be seduced by the iconic Valhalla outdoor furniture design: the contemporary interpretation of timeless elegance, driven by the desire to experiment with contrasts and unique combinations of highly resistant outdoor materials: exclusive 304 and 316 stainless steel, the latest technology in water-repellent cushions and the surprising elegance of the highest quality fabrics.
All this contributes to transform outdoor spaces into intimate and welcoming environments that will fill you with happiness.
Outdoor Furniture Modern Design
Valhalla is innovative, original, and design for you to enjoy indoor and outdoor spaces like never before. The Valhalla collection is the perfect expression of contemporary design. The shape of its structure highlights its striking effect of buoyancy, which makes this design outdoor furniture a unique masterpiece of design.
The Valhalla outdoor sofa designer collection is characterized by its elegant stainless steel structures perfectly crafted as if they were a jewel, extremely resistant, to offer you a truly unique design piece in powder coated in different colors, in satin stainless steel or in shiny mirror polished. The Valhalla collection is a true work of engineering.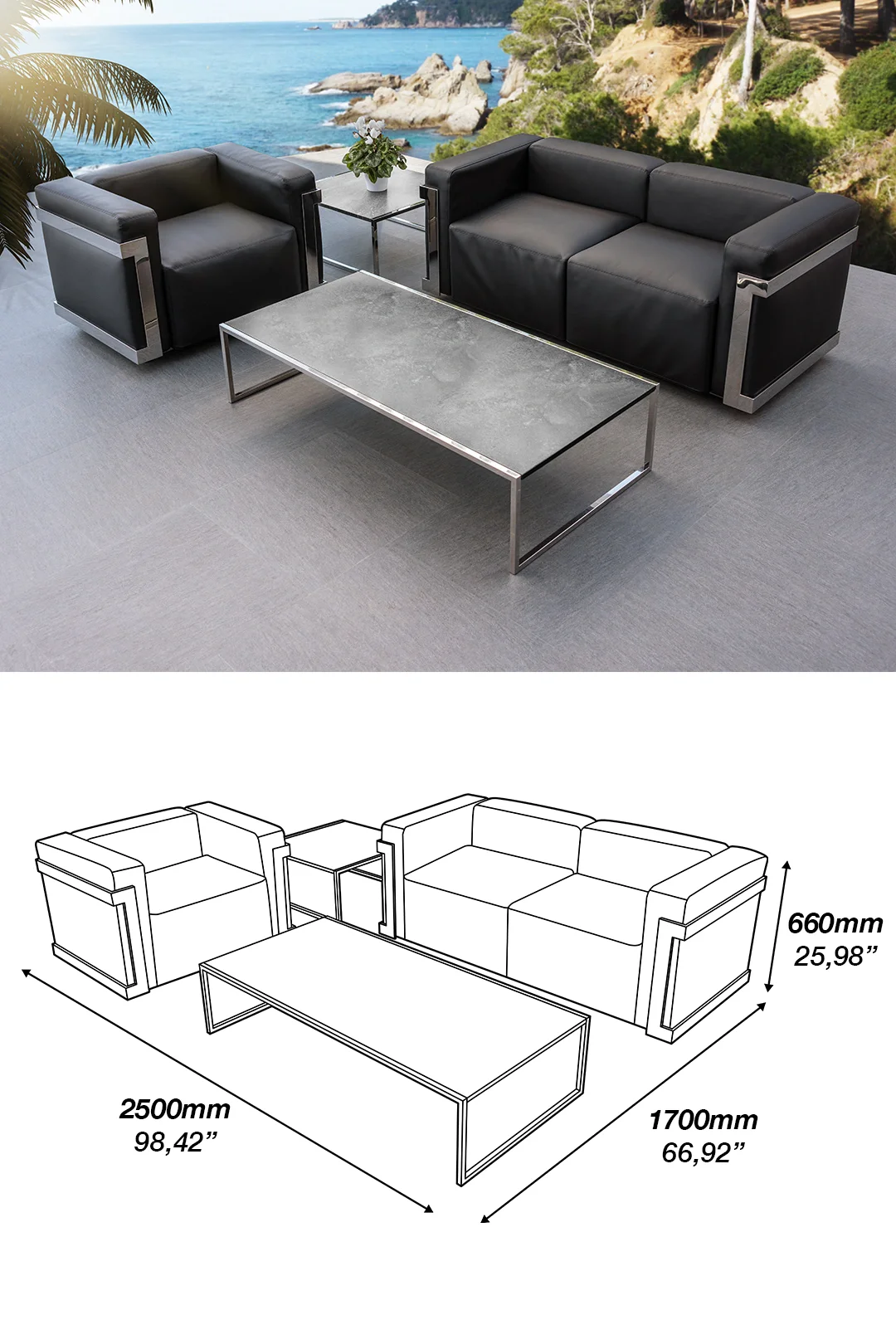 Luxurious Handcrafted Finishes
Made of durable and completely weather-resistant materials, the Valhalla outdoor design furniture collection creates the most luxurious and exclusive environments, matching indoor and outdoor design. Valhalla offers you modular concepts, attention to detail, exceptional quality and high level of craftsmanship to become an authentic ritual of relaxation.
Thanks to the experience and know-how of creative minds, Valhalla is a collection with the highest level of design whose values are enhanced by the use of the highest quality materials, defining true luxury craftsmanship. Valhalla is characterized by a surprisingly pleasant feel and unusual softness that induces a sensation of pure comfort.
Valhalla luxury outdoor furniture design offers unprecedented all-around wellness. It's luxurious upholstery calls for relaxation and enjoyment. The sensation of sitting on the Valhalla sofa and armchair is pleasurable from the very first moment. With Valhalla, design is reduced to its true essence without any unnecessary excess.
The Valhalla outdoor sofa features sleek, clean-lined cushions designed to ensure unparalleled comfort. The modern master lines of its structure define the geometric design of the collection.
Design on Its Purest Essence
Thanks to the latest water-repellent technology, its sophisticated fabrics breathe and drain any water residue. Valhalla is a timeless yet innovative proposal that enhances all types of spaces, both indoors and outdoors.
The Valhalla modern design outdoor furniture collection is designed based on the concepts of creative modularity and maximum comfort to offer you an even more refined aesthetic of great aesthetic value.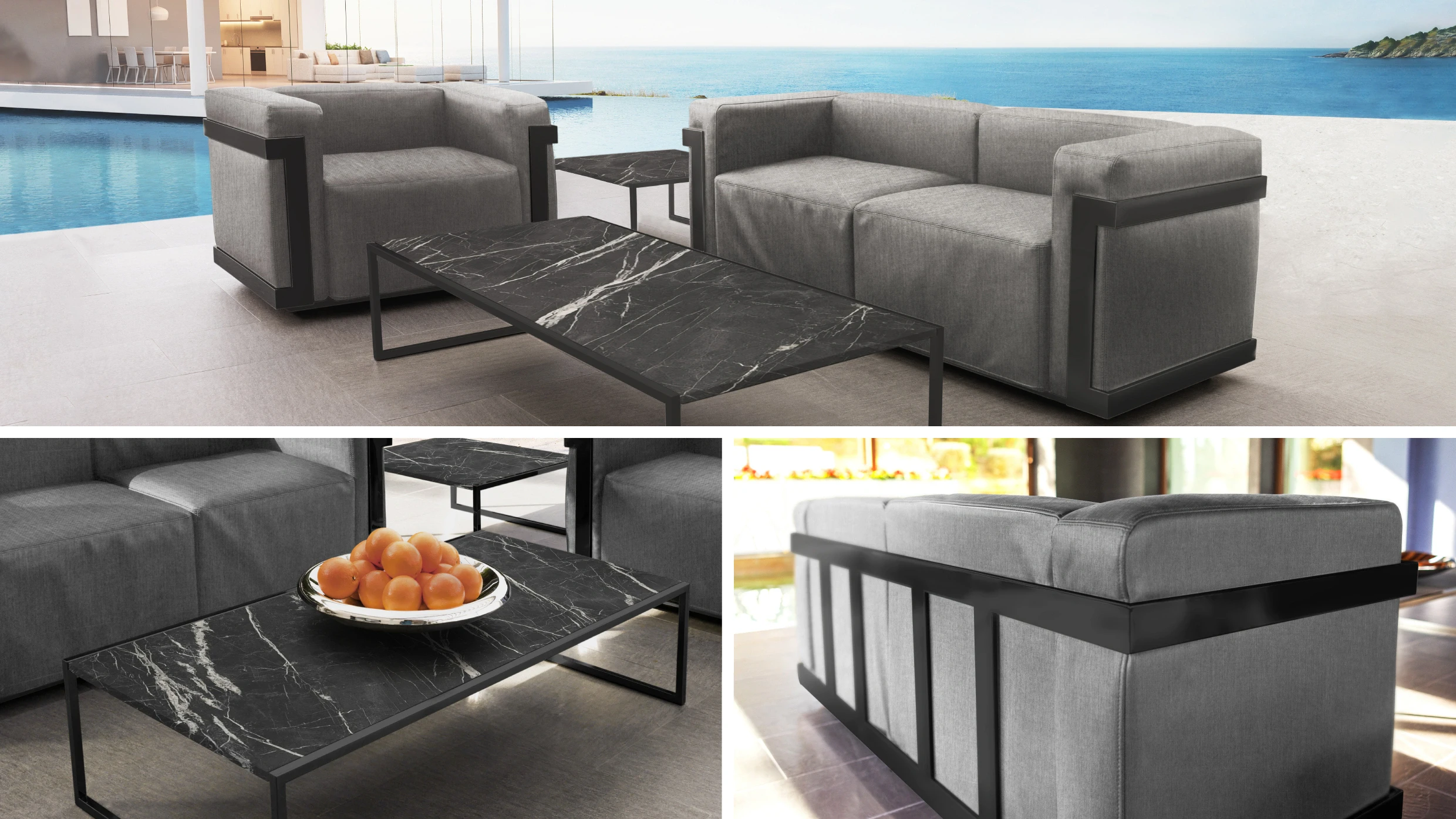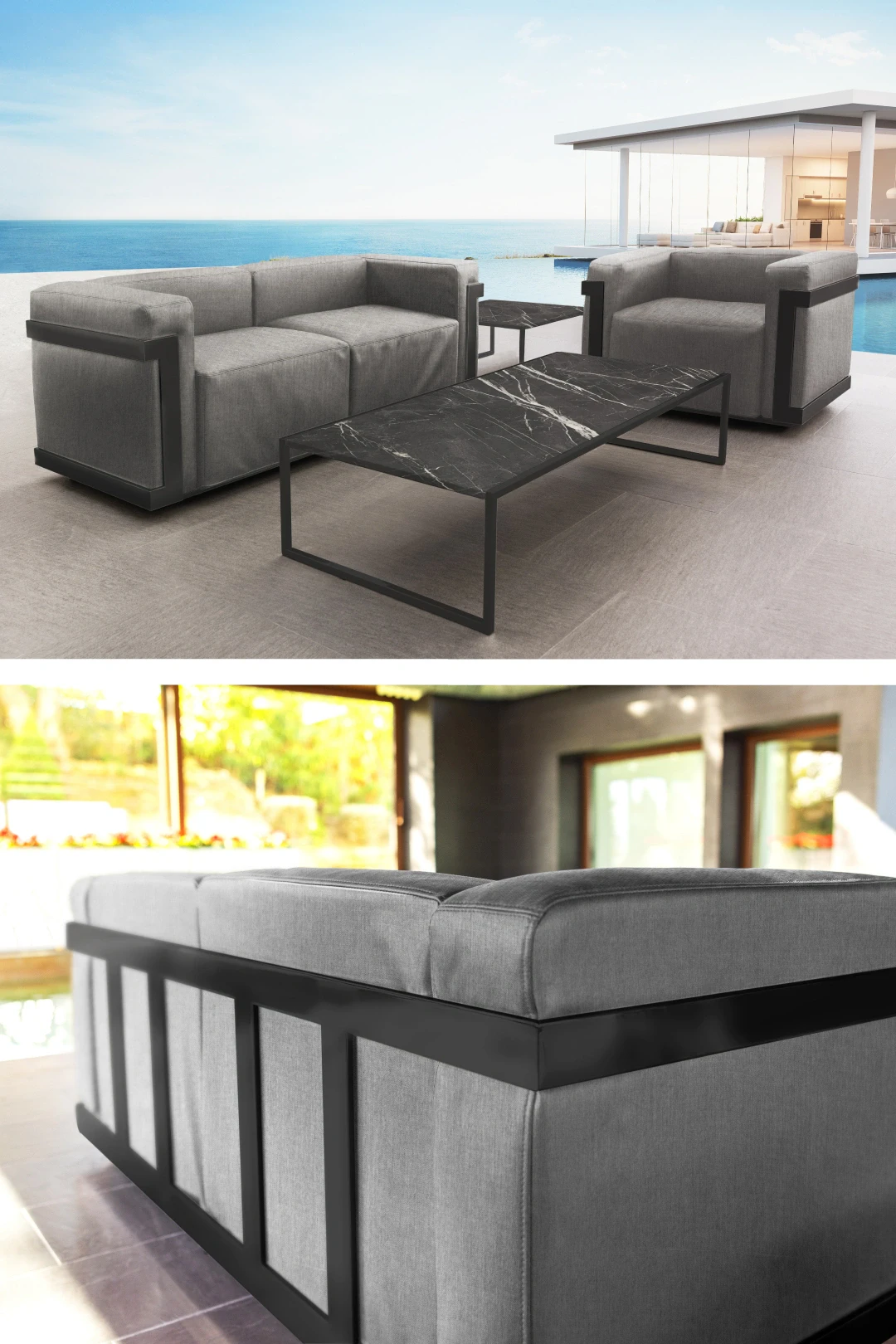 Modern Design Outdoor Furniture
Discover the evolution of outdoor furniture design. An emotion born from the search for details to turn Valhalla into a protagonist element of decoration in your home.
Thanks to the vast experience of almost 20 years in the selection of the highest quality materials and the most advanced manufacturing techniques of our Engineering and Design Team, Valhalla designer outdoor sofa are characterized by a contemporary style conceived to celebrate life.
If you like to relax and enjoy with your family and friends, do not hesitate to incorporate these spectacular designer outdoor furniture in your home. Contact our Technical Team and they will advise you on your project:
Welcome to the Next Level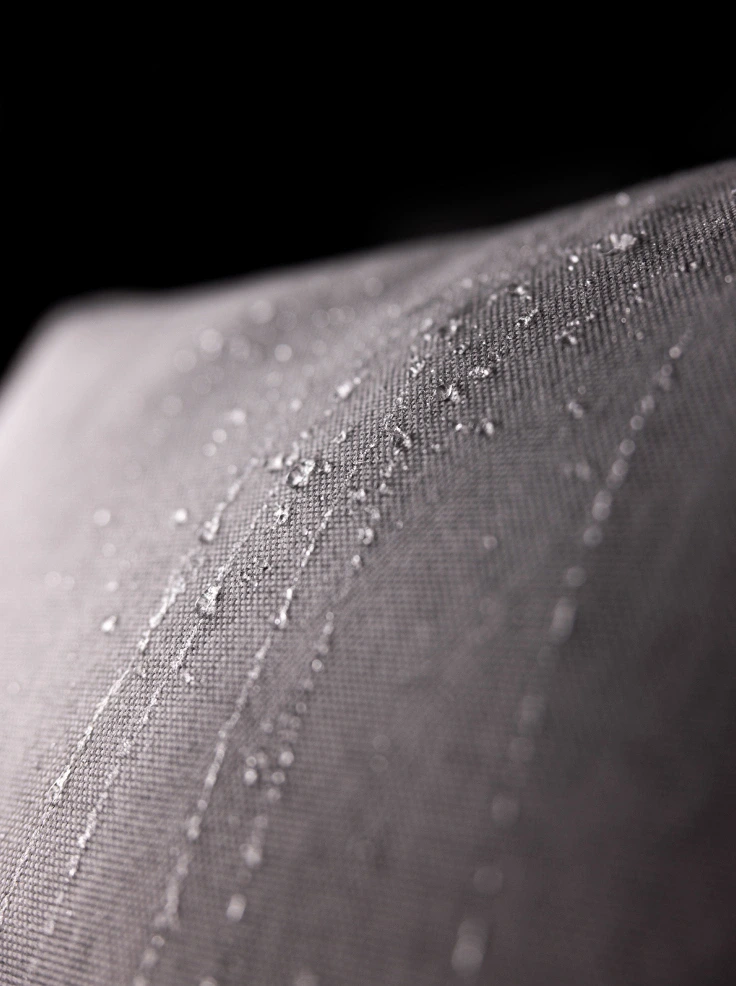 Looking for design, quality, and extreme comfort?  Valhalla is your sofa.
Its highly resistant stainless steel structure offers you jewelry finishes, and a spectacular effect of unique buoyancy designed to make your home an exceptional place.
Because luxury and quality go hand in hand in Valhalla, the softest and most elegant fabrics, highly resistant to moisture and UV rays, have been used in its exterior design.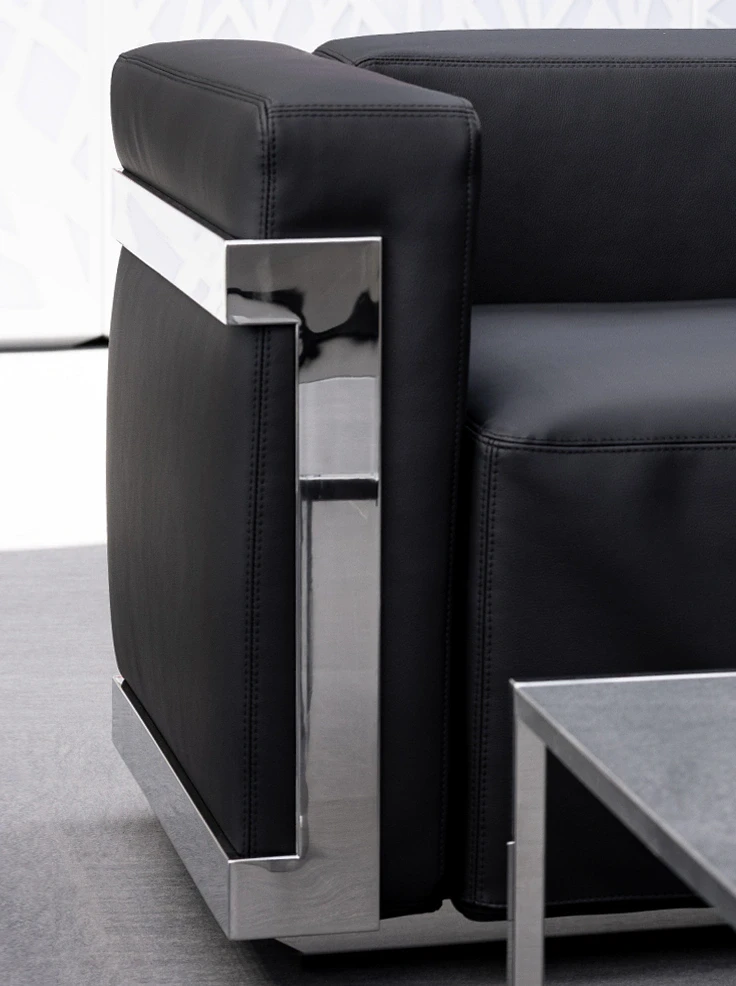 Valhalla represents rest and comfort at its finest. Undoubtedly a sensory experience that will transport you to the paradise of bliss.
Every inch of this stunning outdoor sofa is designed to make your home the most wonderful place on the planet.
Enjoy to the fullest surrounded by comfort in a luxurious environment, where elegance and exclusivity merge in this spectacular design icon.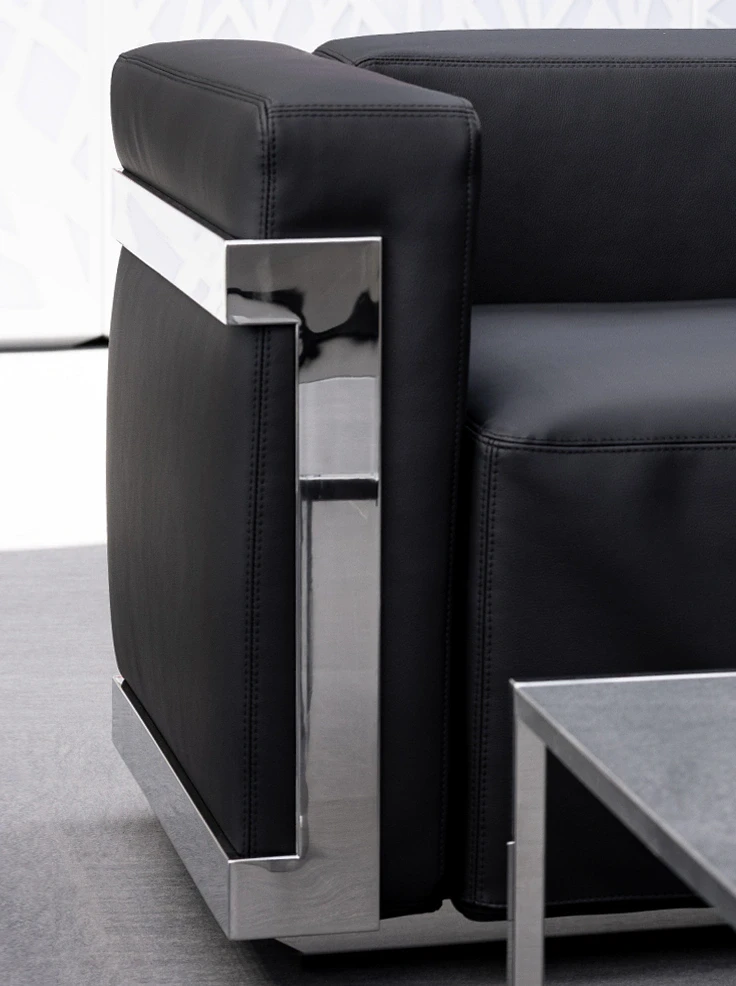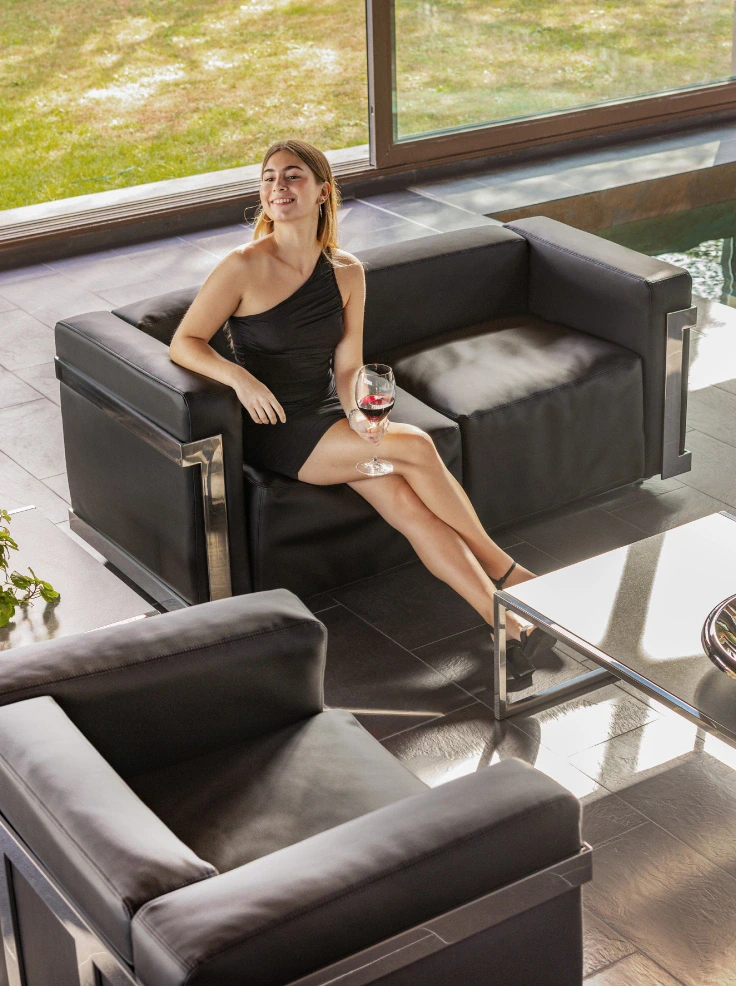 The cushions are simply another level: Fluffy and comfortable to the extreme to offer you maximum relaxation and make you feel as if you were floating on a cloud.
Its elegant and soft water-repellent fabrics will make you relax as if you were in paradise. The cushions feature the latest and most advanced True Comfort technology, designed not to retain water in case of rain, so that the inside will always be dry.
Valhalla incorporates the most sophisticated indoor foams ever created thanks to the most cutting-edge technology for you to enjoy unique sensations.
Let yourself be seduced in the softest and most sophisticated fabrics in the world and delight yourself with a magical sensation of relax and comfort. Choose from number of textures and the most exclusive leathers to take your home decoration to the highest level of personalization.
Don't think twice and redesign your living room, terrace or garden with the magnificent Valhalla luxury outdoor furniture and enjoy every moment.
Relax in an iconic outdoor furniture modern design with the magnificent Valhalla outdoor sofa, a truly sensory experience that sublimates classic and minimalist architectural environments both indoors and out.
Extremely versatile, you can choose between different configurations that will provide you with total comfort: an armchair or 2, 3 and 4-seater sofas.
Create your Oasis of Wellness
Discover the latest technology in outdoor fabrics and get customizable sofa sets in a wide range of colors and textures to create a unique decorative universe that will lead you to a feeling of total well-being.
The Valhalla design outdoor furniture collection offers you a wide range of combinations characterized by its vigorous structure, its beautiful finishes and incredibly pleasant to the touch and ergonomic cushions that bring warmth to the whole. Just relax and enjoy!
Discover the Fesfoc universe in our new catalog: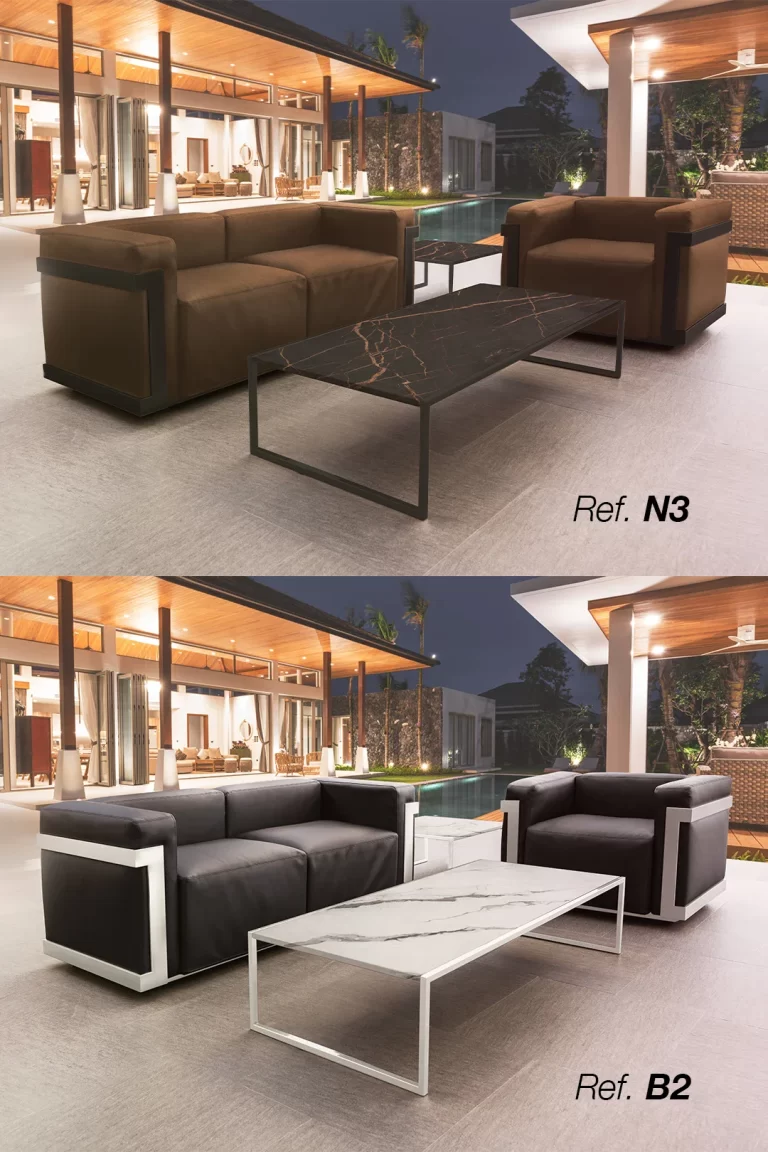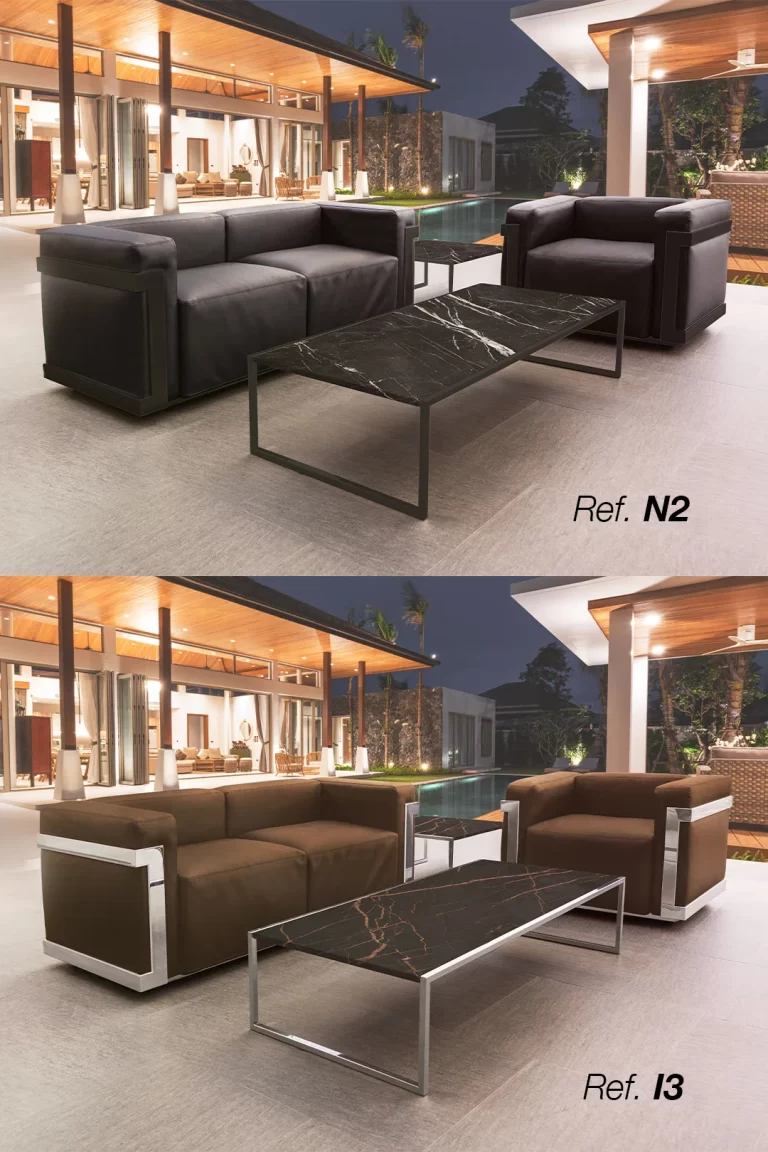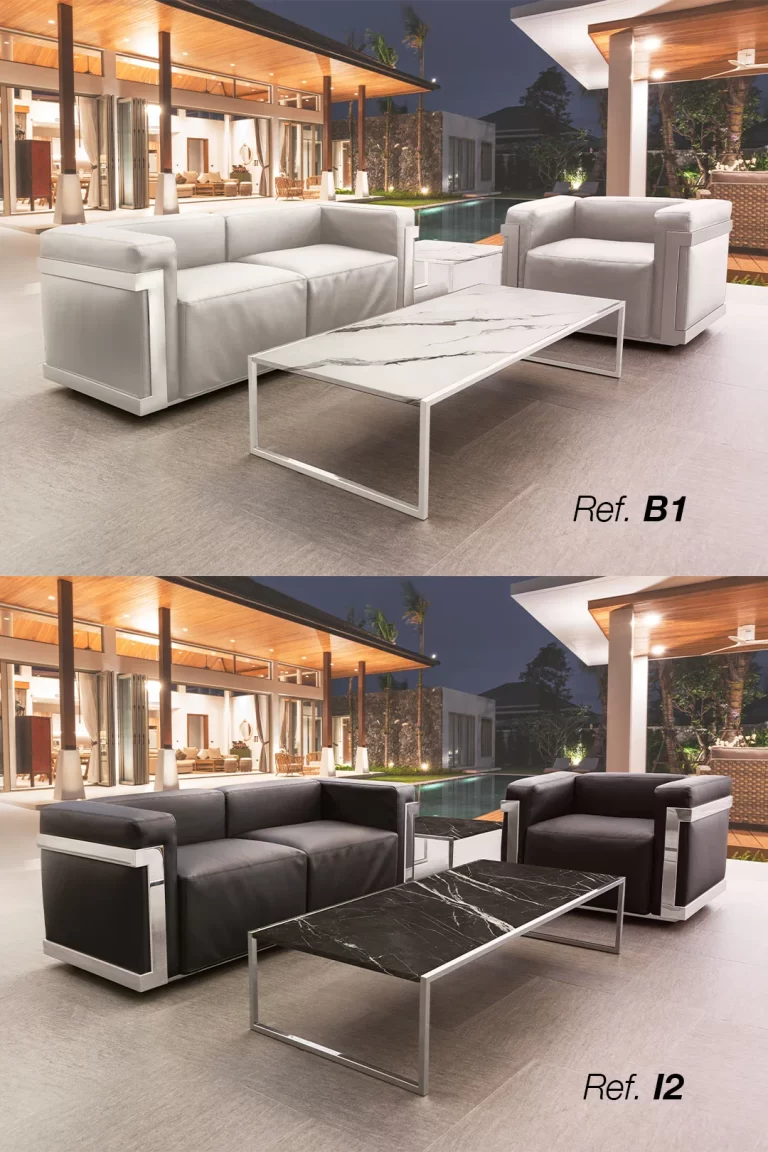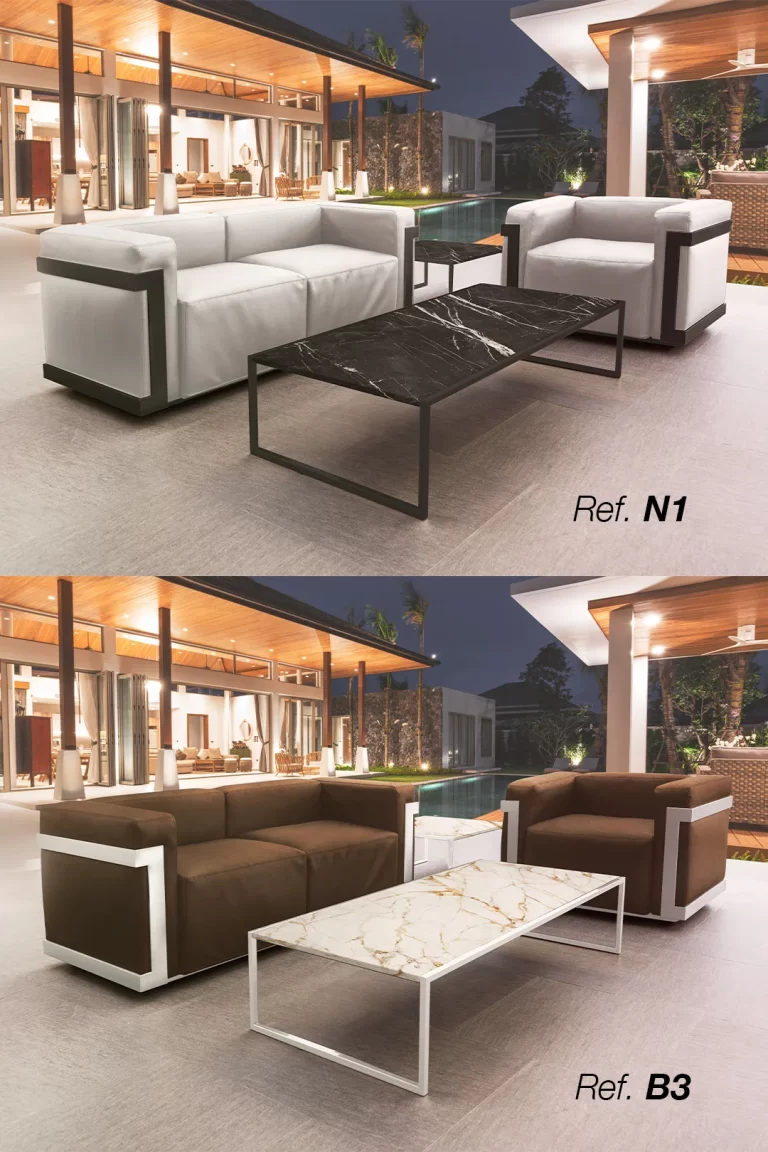 Thanks to the fabulous flexibility of its materials, Valhalla outdoor furniture modern design is equally conceived to embellish the interior of your home, giving your living room or lounge the elegant touch you were looking for.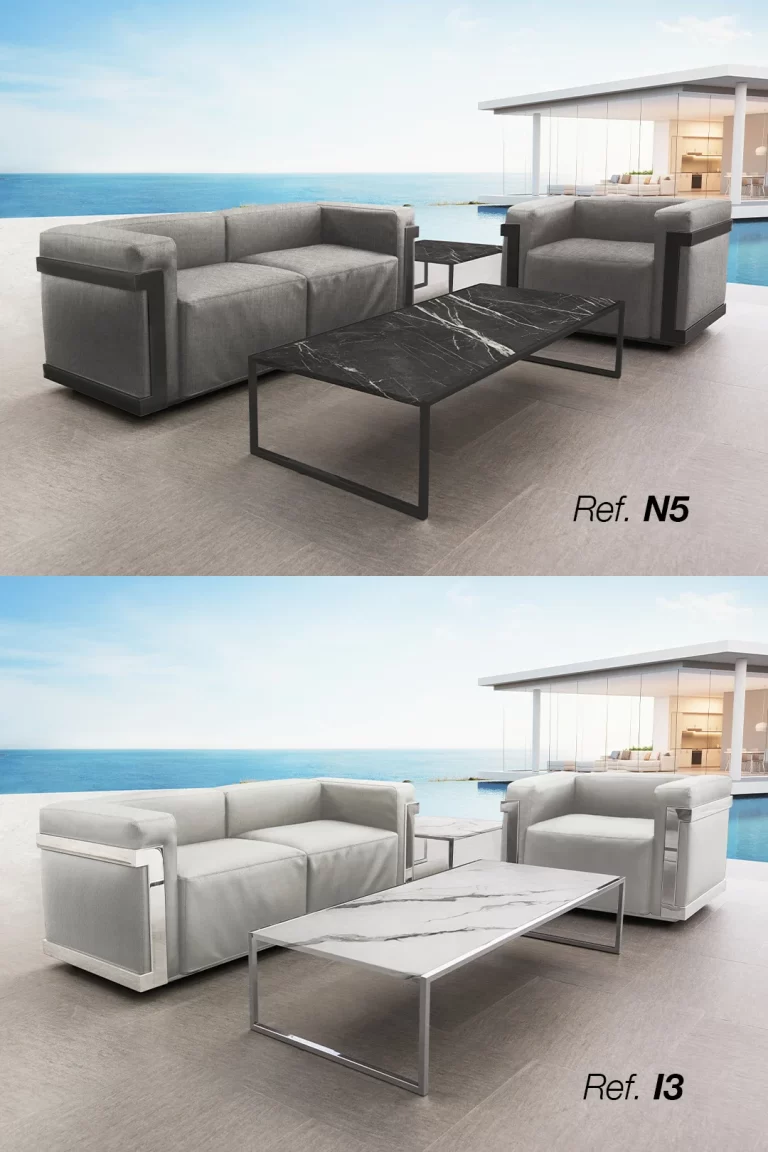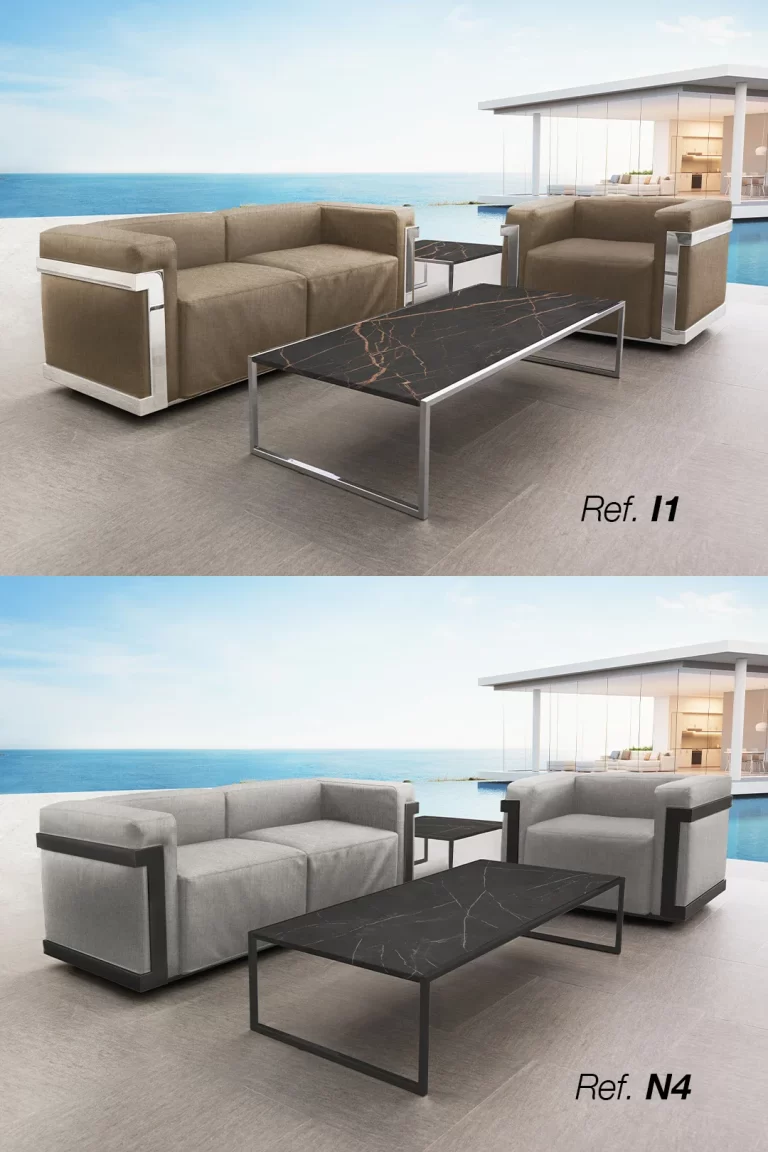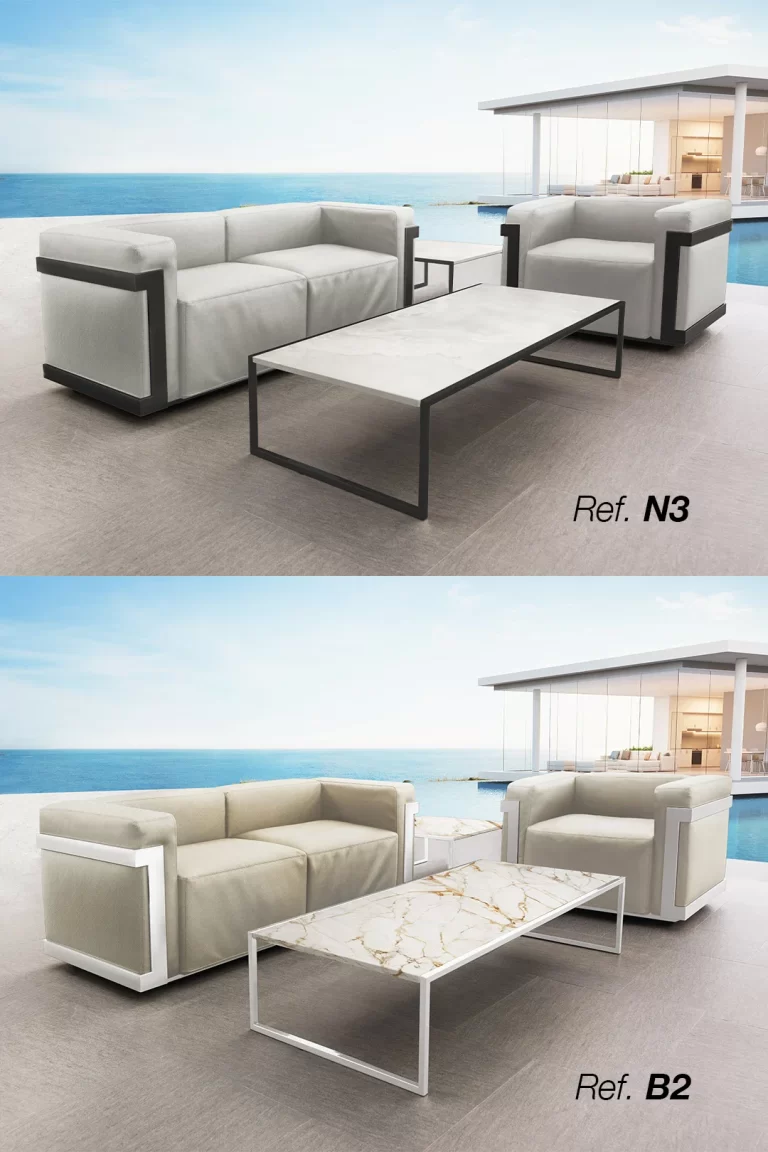 The Valhalla design outdoor sofa offers you a high level of customization. Choose from different dimensions, composing multiple configurations.
Combine your Valhalla sofa with exceptional accessories: side tables, coffee tables and lounging poufs, available in different sizes.
Live the Happiest Moments
Design the indoor or outdoor space of your dreams that makes you feel good and brings you happiness, combining your spectacular sofa with the avant-garde collection of Valhalla coffee tables and side tables.
Combinable with each other, these side tables have been designed with an elegant aesthetic continuity with the Valhalla 2, 3 and 4 seater outdoor sofa design and armchair to provide you with the perfect home décor.
The side and coffee tables adopt a rectangular shape with perfectly finished edges that matches the geometric concept used in the base of the Valhalla outdoor couch design.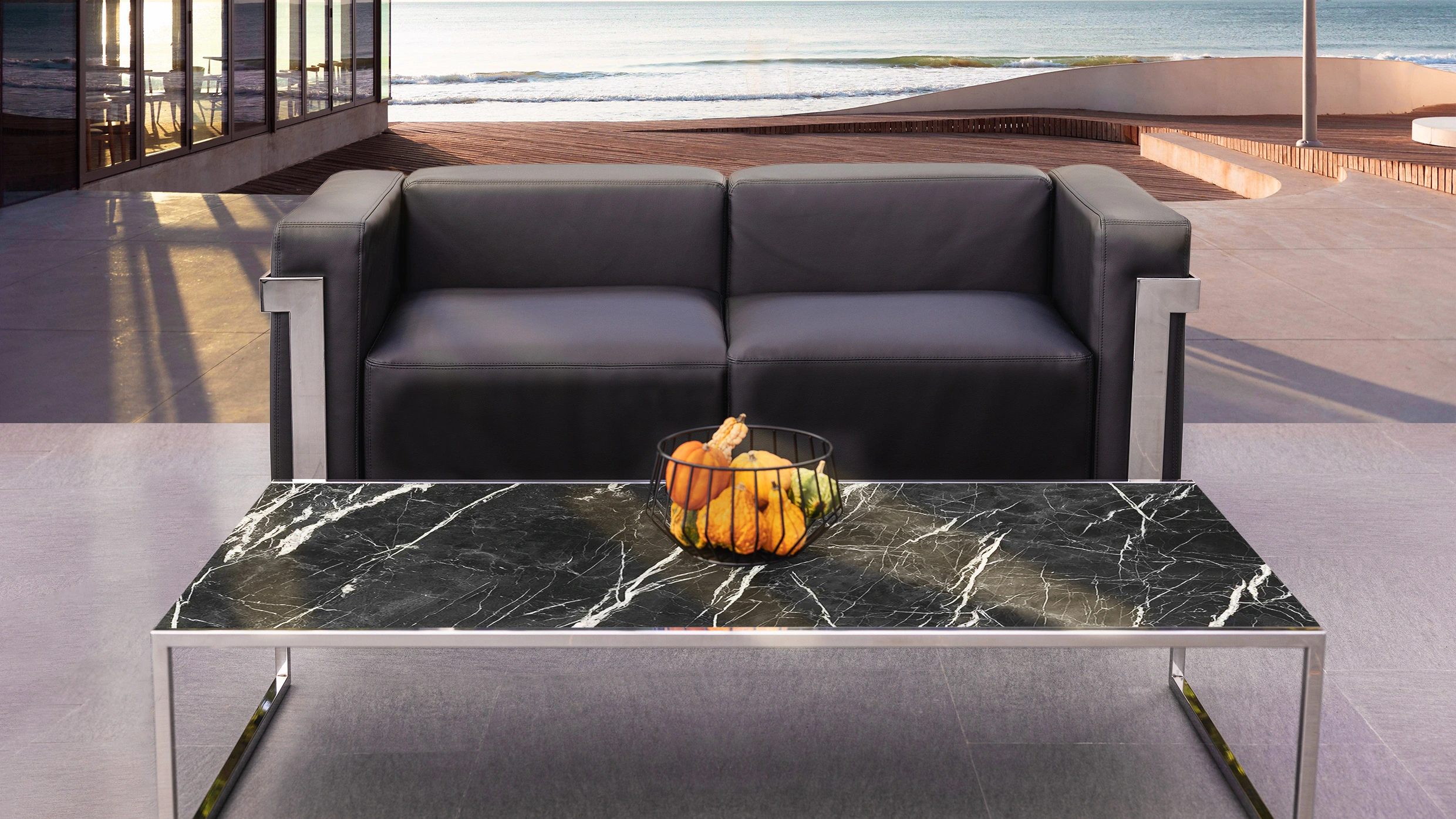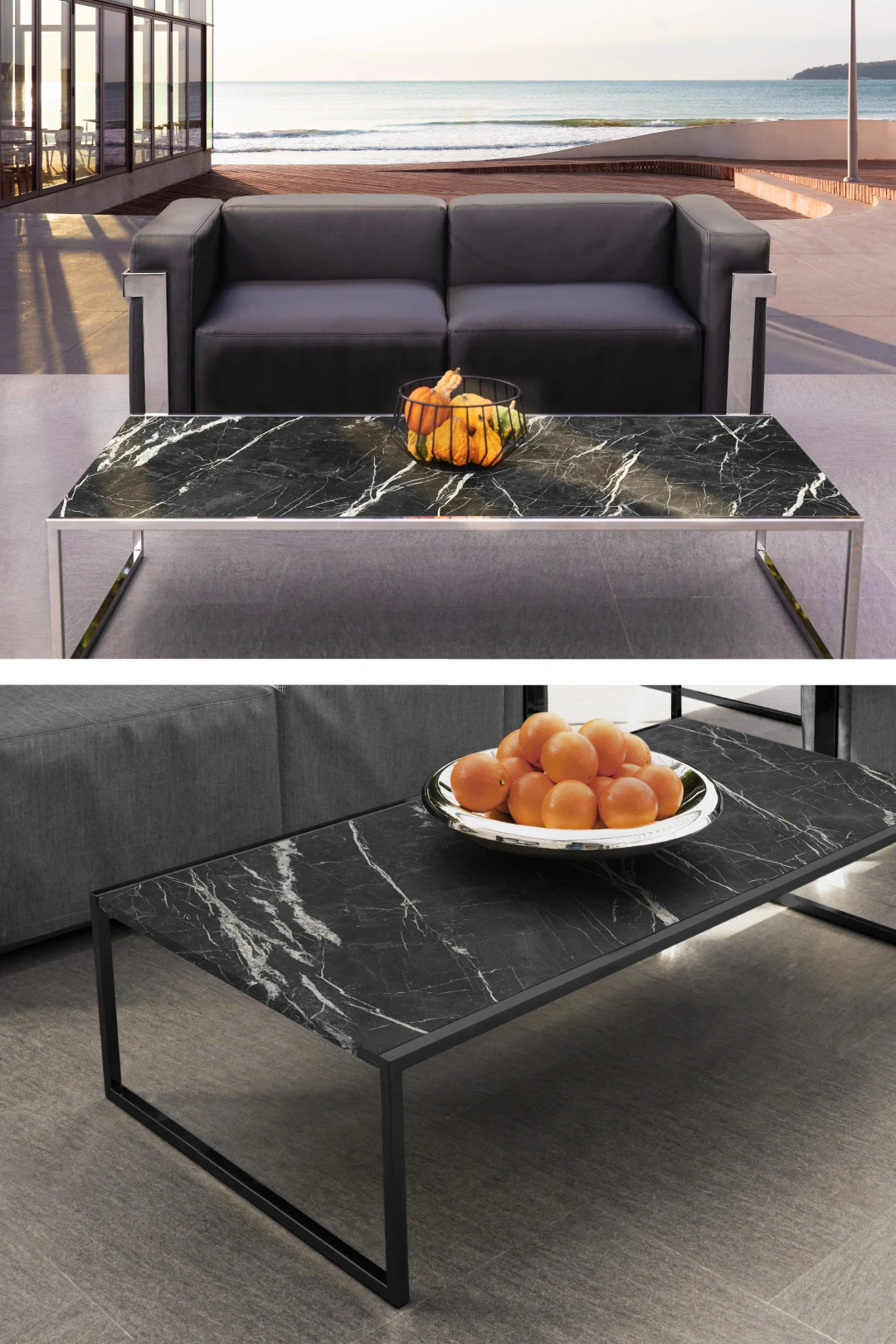 The Valhalla coffee table collection is elegant, functional and the perfect balance to the Valhalla armchairs and sofas, as its minimalist master lines blend exquisitely with the iconic Valhalla outdoor couch design collection creating a pleasantly outdoor or indoor complete sofa set.
These coffee tables are highly customizable in colors and finishes and can incorporate countertop in luxurious sintered surfaces or the best and most beautiful natural stones resistant to UV rays, scratches, and heat. 100% weather resistant.
Valhalla tables offer incredible quality and are surprisingly pleasant to the touch.
YOUR ADVENTURE BEGINS IN VALHALLA!
X: 970mm / 38,18″
Y: 720mm / 28,34″
Z: 660mm / 25,98″

X: 1620mm / 63,77″
Y: 720mm / 28,34″
Z: 660mm / 25,98″

X: 2270mm / 89,37″
Y: 720mm / 28,34″
Z: 660mm / 25,98″

X: 700mm / 27,56″
Y: 700mm / 27,56″
Z: 330mm / 12,99″

X: 1400mm / 55,11″
Y: 700mm / 27,56″
Z: 330mm / 12,99″